I Prefer The Revenant Bear
January 14, 2016 – If you haven't yet seen The Revenant, I won't spoil the movie for you by telling you all about it.
But surely you've seen the commercials advertising the film which earned Golden Globe Awards for Best Motion Picture, Drama and Best Actor in a Motion Picture, Drama for its star Leonardo DiCaprio and is poised to score big at the Academy Awards having just picked up 12 Oscar nominations.
So you probably know that a ferocious bear somehow figures into the plot.
Having seen the movie (twice) and the gruesome bear scene in all its gory, incredible special effect detail and then thinking about 2016's stock market gyrations, I couldn't help wondering if the film represents some kind of twisted cosmic foreshadowing of what investors can expect in the coming year.
If you put any stock (pun intended) into what Societe Generale uber-bear Albert Edwards thinks, the S&P 500 is heading into a period of escalated decline which could see the value of the famous index drop by 75%.
That was not a typo.
Given the choice between what he's predicting and The Revenant, I think I'd rather face the same bear Leo did than go through an Even Greater Recession with my money exposed this time around.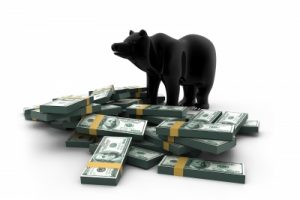 Safety First and Sleeping Well
You know who doesn't have to worry about whether or not Edwards is right?
People who are locked into certain types of annuities: structured settlement annuities, single premium immediate annuities and fixed indexed annuities (FIA).
Their payments are guaranteed.
Our firm has clients in all three and they aren't (and won't) be calling us in a panic if the market bears emerge in full force.
That "ol' bar" can sniff around their money all he wants and our clients' guaranteed income checks will arrive in the mailbox (or via EFT deposit) on time as promised.
Temporary Scary Interlude
I remember one call I received in the fall of 2008 from a plaintiff attorney client who regularly structured his attorney fees (and still does).
A few of his structured attorney fees were placed with American General Life whose parent, American International Group (AIG), was among those companies on the brink of collapse.
AIG's involvement in the credit default swap game (aka house of cards) was probably the most troubling of all the financial institutional failures during that time because a) it should have known better and b) it was a H-U-G-E company whose collapse would lead to ultimate decimation of the entire planet as we knew it.
85 billion Federal Reserve loan dollars and two years later, the AIG disaster was averted and the US taxpayers even made a tidy profit off of its bailout.
IMPORTANT NOTE: It bears (no pun intended) mentioning that American General Life was never at risk. AIG's woes were caused by its holding company.
American General has been honoring its commitments for over 160 years and maintains a superlative balance sheet with over 90% of its portfolio in cash or fixed income assets of primarily investment grade bonds. The real kind. NO CREDIT DEFAULT SWAPS!
State insurance regulations prevent life companies from taking the kinds of risks that led to the Great Recession and we're proud to represent this excellent life insurance company. Neither we nor our clients ever had reason to worry about its ability to pay.

I assured my client that his structured attorney fee was safe and that it would continue paying well into the future (which it has and will).
Back to Safety First and Sleeping Well
A Special Needs Trust (SNT) fiduciary told me not long ago that structured settlement payments flowing into the SNTs were the only thing that kept his clients' accounts viable during the depths of the Great Recession.
This conversation was a timely reminder it's almost ALWAYS smart for special needs clients settling personal injury claims to consider structuring a good portion of their recovery. SNTs and structured settlements work very well together.
Finally, clients of ours who chose fixed annuities and FIAs for some of their retirement allocations awhile back may have missed out on some of the market gains of recent years. But they're locked in now and won't lose anything if Mr. Edwards ends up being right.
(Remind me to talk about the fallacy of averages in a future post)
Don't Panic But Be Safe
Just because one guy says "the sky is falling" doesn't mean it's actually going to happen today or any day soon.
Recessions are regularly occurring events, though, so whether it's a correction or a catastrophe, the market will definitely drop.
Some day.
Then it will go up again.
Some day.
But since nobody truly knows when either will materialize, if you want to protect yourself from the drops that will inevitably occur, take the time to learn about annuities. They work!
Don't panic. Just take time to consider where you are, where you want to end up and most important:
Don't risk money you cannot afford to lose.
Image courtesy of ddpavumba@FreeDigitalPhotos.net