Master Class Highlights
October 21, 2014 – Last week, I had the great honor of participating in the inaugural class of the structured settlement industry's newest designation and will soon be able to call myself a . . .
Master Structured Settlement Consultant (MSSC)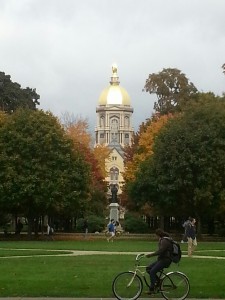 Offered through the National Structured Settlements Trade Association (NSSTA) working in tandem with the faculty at The University of Notre Dame's Mendoza College of Business, this advanced Master Class curriculum was conceived as an enhancement to the existing Certified Structured Settlement Consultant (CSSC) designation created more than two decades ago.
While some required post-classroom work still needs to be completed before the designation can be formally conferred, I thought I'd take a moment to share with you some of the topics covered:
A Family Affair & Settlement Needs – We heard a first person account from a plaintiff who made an amazing recovery from an accident which rendered him clinically dead and the ensuing efforts by his financial team to design and implement a complex trust which helped facilitate his recovery and protect his settlement;
The Economic Environment – A Notre Dame associate economics professor shared perspectives about the current economic conditions;
Tax Policy and Tax Policy Challenges & Tax Reform Issues in the U.S. Congress – We got a double dose of insights on tax policy from a Deloitte Director of Tax Policy which tied in nicely with the comments from Chief Tax Counsel for the Senate Finance Committee;
Taxation – Structured Settlements – We learned firsthand how the Internal Revenue Service applies Sections 104(a)(2) and 5891 tax law to situations where taxpayers seek guidance on settlements which may fall into grey areas of the law from the IRS branch chief whose office handles such requests;
Business Ethics – A thoughtful session on business ethics was led by Notre Dame Associate Professor of Management Fr. William Oliver;
Negotiation – Listening and negotiations skill techniques were shared from a Notre Dame faculty professor with advanced degrees on the topic;
The Psychology of Grief – One of the better sessions, this interactive lecture was led by a psychologist who consults with those involved in national tragedies like 9/11, Hurricane Sandy and Sandy Hook Elementary;
Life Care Planning – A Certified Life Care Planner shared insights on how life care plans are developed, modified and implemented;
Affordable Care Act – Impact of the ACA on settlements was discussed;
Sudden Wealth Syndrome – Insights from a financial planning author about some of the pitfalls that await those receiving large sums of money and how guaranteed cash flow can help avoid them.
The sessions were intense but our thirteen hour days were well spent and the curriculum content provided me with added personal insight about issues that impact the lives of the clients I serve.
Congratulations and a big "THANK YOU!" to the collective brain trust responsible for developing and implementing this very professional industry-specific educational program.
PS  Go Irish!