Ziggy's Wall Street Oddity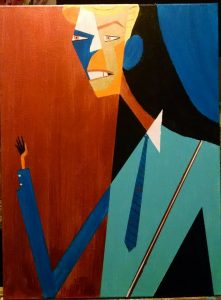 January 12, 2016 – With tributes to the late rock icon David Bowie continuing to pour in across the globe, the debate about which David Bowie song was the greatest will likely rage on for a few weeks at least.
Whether you liked his music or didn't, one irrefutable truth follows his legend:
David Bowie was a trendsetter.
Not content to follow the musical path of most of his predecessors, he expanded the notion of rock music by combining theatrical elements to his shows and developing concept albums at a time when the industry brass were still universally focused on hit singles.
He foresaw many social changes taking shape long before most as evidenced by his early creation of androgynous characters which bridged the gap between what society considered acceptable then and what it would accommodate years later.
The Rise and Fall of Ziggy Stardust and the Spiders from Mars changed the trajectory of rock music and arguably society as well. In addition to making my personal Top Ten list, "Ziggy Stardust" is generally regarded as one of the best albums of all time by rock critics.
Bowie Bonds
But Wall Street pioneer?  Who knew?
Bowie's trendsetting ways didn't stop with the world of art and fashion. He was a financial innovator as well.
In 1997, David Bowie became the first to create securities backed by future music royalties. Other artists followed suit all meeting with varying degrees of success.
This WSJ YouTube Video gives a great summary of the story.
So, Rest in Peace Tall Thin Duke. Thank you for ALL your innovations.
Especially your music which lives on.
Image courtesy of David Schrock, an artist and personal friend living in Ft. Lauderdale. The painting is for sale.