Who's Ready for 2021?
December 30, 2020 – As we wind down the year that couldn't have been crazier, today we focus on everything positive and reach out to express our heartfelt thanks to all who helped contribute to our success.
This past year, we helped secure the futures of 85 individuals facing assorted financial challenges in 2020. They valued our expertise sufficiently to have entrusted us to help them make decisions involving nearly $24 million.
We are honored and humbled by the ongoing vote of confidence our clients have placed in us and wanted to send out a big CDC-compliant: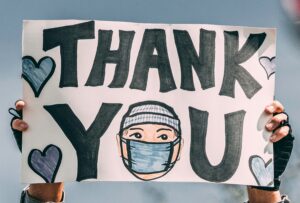 So just who did we help this past year?
Most of our clients were folks receiving settlement proceeds from a personal injury claim or lawsuit. We helped them choose risk-appropriate structured settlement or trust options with an emphasis on safety and tax efficiency.
We aided claims professionals, businesses, government entities and hospitals who require professional expertise in helping evaluate litigation exposure and negotiate effective claim settlements.
We added to our ever-expanding list of satisfied plaintiff attorneys who secure their own futures by deferring their contingency fees into fixed income annuities and managed equity accounts.
We helped a few people defer, reduce, or eliminate capital gains taxes by facilitating a structured installment sale when they were selling property.
We Zoomed into your homes and socially distanced offices to help provide specialized training on a variety of topics. We presented helpful information to claims offices, realtor groups and industry professionals on structured settlements, structured installment sales and other areas of interest.
THANK YOU for allowing us the privilege of serving you!
What's Next?
Our pledge to you going forward is to keep doing more of the same AND MORE in 2021 and beyond! Whatever your financial future needs, if we can't help you, we'll find someone who can.
So, as we say goodbye to this historic (for all the wrong reasons) moment in time, we send you our most sincere wishes for a very safe and Happy New Year.
We understand your lives are different and some of you have suffered more personal losses than the rest of us. We send our most positive thoughts to you with high hopes the year ahead will bring peace and a return to some semblance of normalcy.